OLD…BUT NEW 
Just want to tell you about a couple of items that we now have for sale. We now have two more of the original Live VHS's now available on DVD! 
The Live VHS entitled "On Tour" was originally recorded in 1990 from 2 different concerts – one in Gainesville, GA and the other one in Chattanooga, TN. The song titles on this DVD include: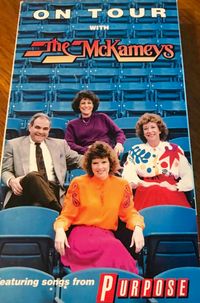 Somehow He Will 
Handfuls Of Purpose 
Oh What A Savior Is Mine 
Seeking Out The Good Things 
Children Stand 
Labor Of Love 
I Am A Soldier Today 
The Road Less Traveled 
Inside The Home Gate 
Vision Of Heaven 
Tarry Here 
I Owe It All To Jesus 
Jesus Passed By 
The other Live VHS entitled "Encourage" was originally recorded in 1996 in Hendersonville, TN. These song titles include: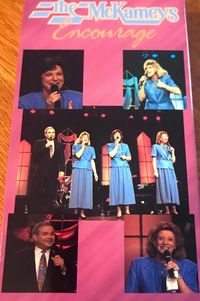 Jesus, Lord Of All 
A Voice Within 
Following Him From A Distance 
I Know The One Who Knows 
Come Forth Like Gold 
This Valley Is For Me 
No Other Fountain 
Blind Bartimaeus 
A Firm Place To Stand 
The Old Love Letter 
In My Fathers' House 
When He Comes 
The First Time I'll Be Home 
Because Of Him 
In The Cool Of The Day 
How Deep Is The Sea 
Jesus Is Calling 
Visit our STORE to order or you can call the office Monday-Wednesday, 8:30-4:30 at (865) 457-3678 and order with your credit card today. These are $20.00 each plus shipping/handling. 
If you have everything from The McKameys, you will want to add these to your collection…call today and get yours!